The second big expansion for Farming Simulator 22 lets you cultivate an agricultural empire in Zielonka - a brand-new Central European map coming with the Premium Expansion. Looking ahead to the scheduled release on November 14th, we set the mood right now: Check out the map trailer below and check out Zielonka!
The Charm of Central European Farming
---
Zielonka expresses the flair of Germany's neighbors, drawing inspiration from countries like Poland and the Czech Republic. Not only does it offer a picturesque landscape around a remote and quaint village, it also has fertile ground to cultivate the new vegetable crops.
With carrots, parsnips, and red beet, the Premium Expansion brings the total count of arable crops in Farming Simulator 22 to twenty. Of course, new machines and tools like specialized harvesters to handle the additions become available with the expansion, too.
Home of Pianos & Vegetable Exports
---
Above all, a renowned piano manufacturer is resident alongside other traditional businesses in Zielonka. You may profit heavily from supporting the construction of classical keyboard instruments: By supplying wood, every piano built becomes a source of revenue for the discerning farmer. Have fun with this new production chain!
There are new factories, too: Focusing on vegetables, the potato production plant produces crispy potato chips, the preserved food factory canned goods, while the beloved soup factory called "Zup, Zup, Zup" specializes in liquid food. All of them reward you with increased income for delivering produce.
Download the Map of Zielonka!
---
You can print the map of Zielonka in different sizes and download the file by clicking the button below. In case you want to hang the map up on your wall, for example.

More Impressions from Zielonka
---
Premium: Choose & Pre-Order Now!
---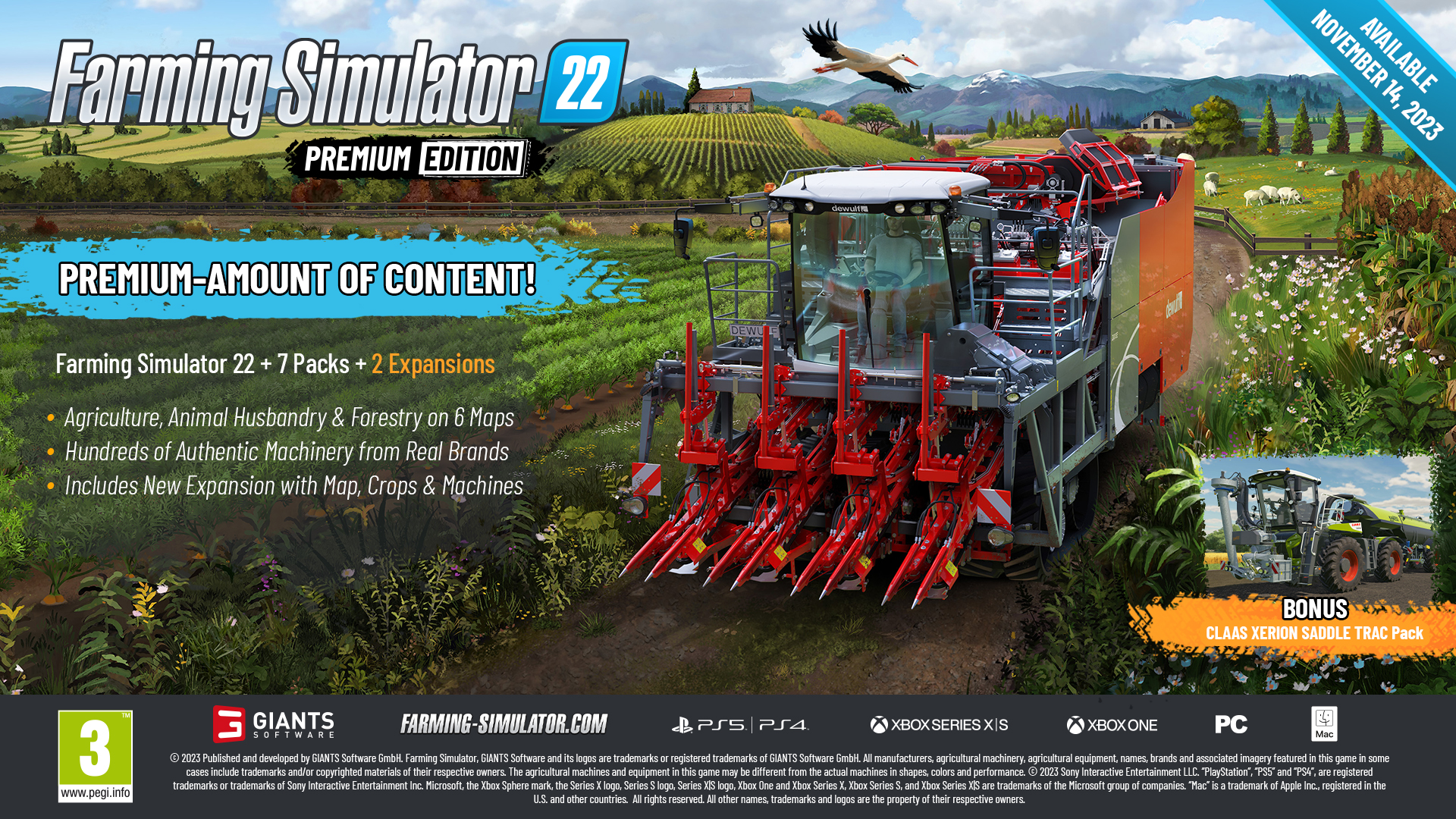 Premium Expansion
New Crops: Carrots, Parsnips & Red Beet

New Map: Zielonka (Central European)

New Factories & Production Chains

Over 35 New & Specialized Machines

4 New Brands, 15 Brands Overall

Premium Edition
Farming Simulator 22 Base-Game

Premium Expansion (above)

Platinum Expansion

Antonio Carraro Pack

Kubota Pack

Vermeer Pack

Göweil Pack

Hay & Forage Pack

HORSCH AgroVation Pack

Oxbo Pack