We're back from the world's biggest consumer fair for video games! We had a lot of fun at gamescom 23, and met a lot of familiar faces from the community as well as interested gamers, admiring the John Deere 8R that was placed in our hard-to-miss booth.
Check out some impressions from the event that took place from August 23rd to 27th in Cologne, Germany! Also, in case you haven't seen our gamescom Trailer for the Premium Edition (containing everything from the Year 1 & 2 Season Pass), catch up on that, too.

Impressions From gamescom
---
If you weren't there, here's a short recap of what you might have missed. We saw a lot of our European and international content creators, so check out their channels! You'll probably see reports and impressions from them, too. Here's what we offered at gamescom:
The opportunity to play the upcoming Premium Expansion for the very first time
Getting your hands on the upcoming HORI Farming Vehicle Control System
Obtaining one of our popular straw hats that were seen all around gamescom
Participating in the Bale Stacking Challenge to win cool prizes
Witnessing the victory of the HELM team at the live FSL tournament
Meeting Rosy, our community team & other GIANTS
Next Up: Meet Us @ PAX West!
---
Don't worry, the next event is imminent - especially, if you're in the US: From September 1st to 4th, we exhibit in Seattle and thus, after several appearances at PAX East, at PAX West for the very first time. Come to booth 856 in the expo hall to play the Premium Expansion and casually chat with us!
Premium: Choose & Pre-Order Now!
---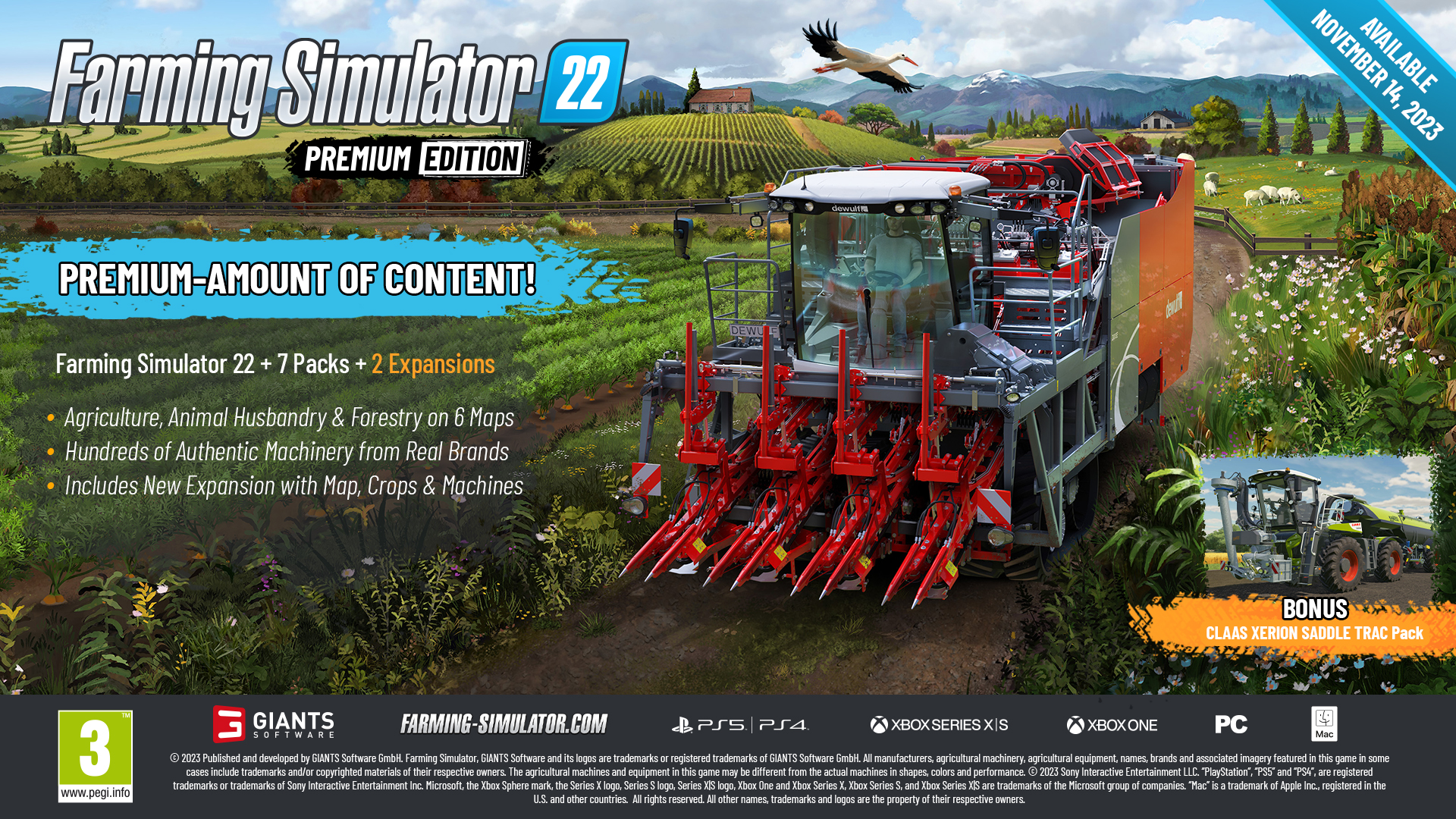 Premium Expansion
New Crops: Carrots, Parsnips & Red Beet

New Map: Zielonka (Central European)

New Factories & Production Chains

Over 35 New & Specialized Machines

4 New Brands, 15 Brands Overall

Premium Edition
Farming Simulator 22 Base-Game

Premium Expansion (above)

Platinum Expansion

Antonio Carraro Pack

Kubota Pack

Vermeer Pack

Göweil Pack

Hay & Forage Pack

HORSCH AgroVation Pack

Oxbo Pack