We're at gamescom 2023 and have big things in store: Not only is our booth hard to miss thanks to the John Deere 8R - in addition to a real tractor that we and our friends at John Deere drive onto the fairgrounds, we also bring the upcoming Premium Expansion! We will be on-site from August 23 to 27.
Premium Premiere: Play the New Expansion!
---
At gamescom, you will have the opportunity to play the upcoming Premium Edition of Farming Simulator 22 for the very first time. This will give you an early preview of brand-new crops, brands, and machines. We will set up enough play stations for you, don't worry!
But wait, there's more! We also bring the upcoming HORI Farming Vehicle Control System that you can already pre-order on our hardware store page. It releases November 30th.
Both Premium Expansion and Premium Edition (contains all packs + expansions of Year 1 & 2 Season Pass) will be released on November 14. Until then, we will of course continue to work on the new content and present you with more details here on the blog in the coming weeks.
Bale Stacking Challenge, Stage Program & FSL
---
At the gaming stations, we present Farming Simulator 22 and 23, while on stage a varied program will be waiting for you. It's worth a visit - with a little luck you can even get some popular goodies (while stocks last, of course)!
In addition, everyone can take part in the Bale Stacking Challenge - the finalists will compete on stage for cool prizes. There will also be a professional Farming Simulator League tournament on the weekend, where the participating teams of the fifth season will compete for their share of the 200,000 Euro prize pool.
Come and Chat with Us!
---
Of course, we are also there for you if you just want to have a little chat. Our community manager Lars aka Lisertan and some of his colleagues will be at the booth in hall 6. So come by and talk to us - we're looking forward to seeing you!
Premium: Choose & Pre-Order Now!
---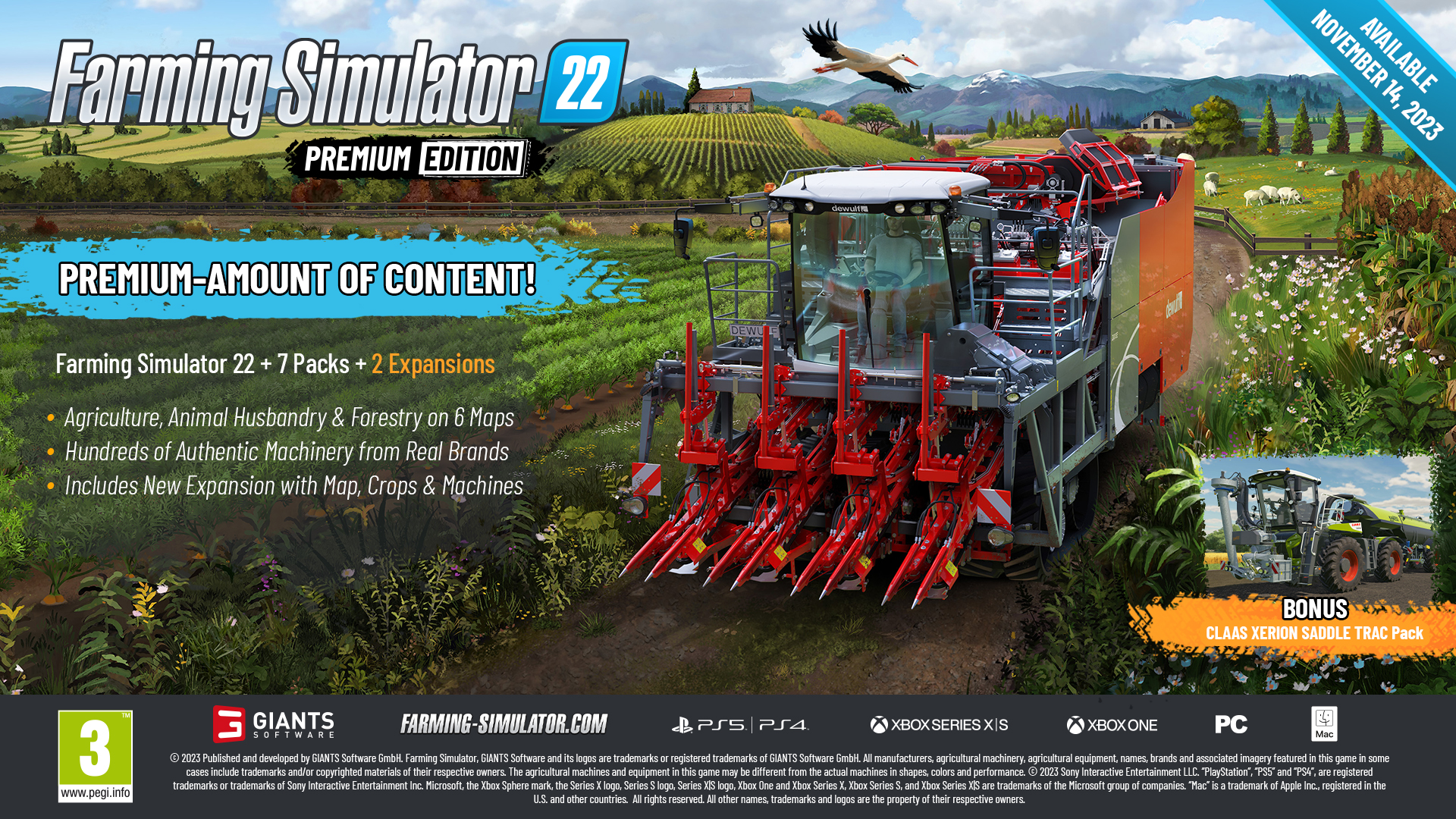 Premium Expansion
New Crops: Carrots, Parsnips & Red Beet

New Map: Zielonka (Central European)

New Factories & Production Chains

Over 35 New & Specialized Machines

4 New Brands, 15 Brands Overall

Premium Edition
Farming Simulator 22 Base-Game

Premium Expansion (above)

Platinum Expansion

Antonio Carraro Pack

Kubota Pack

Vermeer Pack

Göweil Pack

Hay & Forage Pack

HORSCH AgroVation Pack

Oxbo Pack