We want to get to know our community. And not only the big ones you already know and love, but uprising content creators or even anonymous fans, too. No matter if our community members produce YouTube videos, develop mods or just want to share their personal and unique Farming Simulator story - this is the place to introduce them!

In the German-speaking Farming Simulator community most people should have come across his videos by now. Ansgar aka nordrheintvplay is fascinated by the genre of simulations. Above all the Farming Simulator, of course. In the following interview he tells us more about is passion for the genre and the great amount of work that goes into making his videos.
Who is Ansgar aka nordrheintvplay?
---
More than seven years ago, Ansgar started his channel "nordrheintvplay". For our non-European readers: "Nordrhein" (North Rhine) describes a region in Germany, north of the... well, Rhine - one of the major European rivers. And that is, you guessed right, where Ansgar is from.
Since then, about 4.500 videos have been uploaded to his channel and more than 300.000 subscribers watch him behind the wheels of virtual tractors, trucks, buses, trains and other vehicles and heavy machinery. But let's get to it!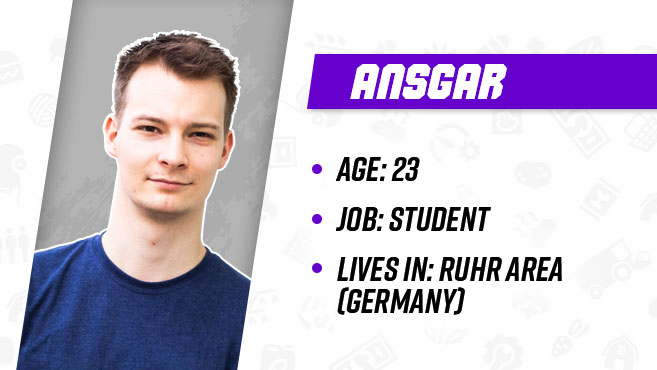 Hello Ansgar! Tell us a bit about yourself. What are you doing besides your YouTube channel and how did nordrheintvplay come to be?
Ansgar: Besides YouTube, I study at a university in the ruhr area. Apart from that, there isn't much time left and I'd like to spend it without computers and books. Aber I like studying and i love YouTube. The Channel nordrheintcplay was created when I was going to school. I already had the tech channel nordrheintv and wanted to show games, especially simulations, together with a friend. And this gaming channel passed by the original channel within years.
What would you do now if you wouldn't manage a successful YouTube channel?
Ansgar: If the channel is "successful" is relative. Compared to big gaming channels on YouTube it's probably pretty small and not that successful. If I didn't have that channel, I'd probably focus fully on my degree and would acquire my master's degree in a few months. Then, I'd take on a job. At least, that's what I tell myself.
To be honest, I think that I would've created something else instead. Maybe I'd produce image films for companies - I already did that before and I worked for a news paper while studying. To me, the whole media business was very attractive from the beginning. So, I'd probably ended up somewhere in the business.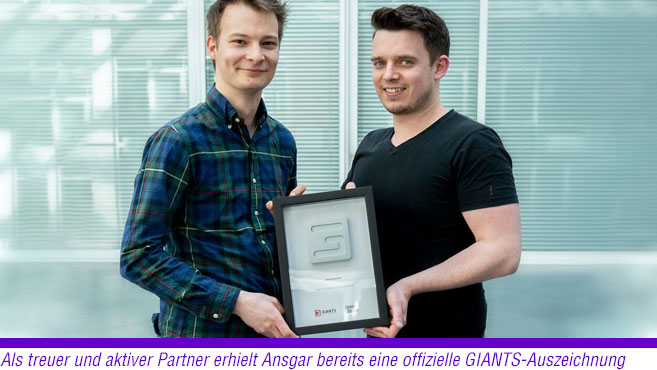 You specialized on simulations with your channel. Where does the fascination for the genre come from?
Ansgar: I always found simulation games exciting. Playing a fireman or policeman, driving trucks and tractors - all that got me excited when I was a kid. Probably the same as millions of others felt excited for big motors, flashing lights and cool jobs like that.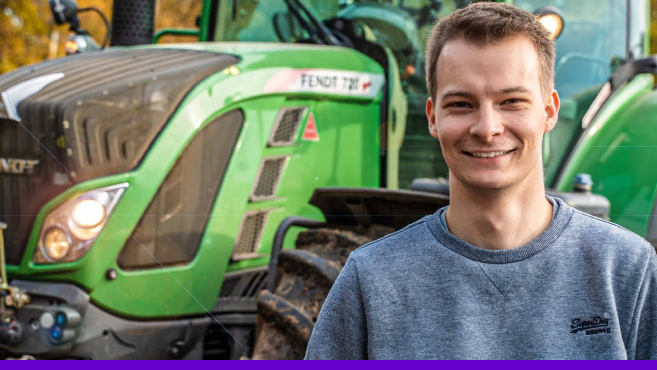 Simulation games give you the virtual chance to peak into those jobs and experience them to some extent. Like the daily challenges on the field, how risky it is to maneuver a truck on the streets, operate a train or make decisions in split seconds like a fireman would.
Better than every game is often reality, of course. I'm thankful that I also got the chance to get a real glimpse into some of those jobs in real-life. But after work, you can learn something by playing those simulation games, too and you can have fun experiences in multiplayer.
Do you have a personal connection to agriculture before playing the game?
Ansgar: Not really. I didn't grow up on a farm and there weren't farmers in my family. At least, not the ones in my family, I got to meet. But I grew up in cities with kind of rural feeling. The closest farmlands are only 300 meters away from the home of my parents and you can watch a lot of tractors while smelling the typical countryside air. And with that, you can experience the achievements and problems of real farmers that are living right across from your home.
What fascinates you about the Farming Simulator?
Ansgar: The Farming Simulator is a flagship of the genre and it was from the beginning. That alone is fascinating - especially when you look at the theme, that seems not to be that popular at first look. Farming Simulator underwent a lot of changes through the years and offers an unbelievable amount of machines and tools nowadays. Thanks to satisfying the wishes of the community. I think that's remarkable.
Also, I have great respect vor all modders, building on the game by making free mods for Farming Simulator. Look at Hof Bergmann, for example. The map allows you to produce honey, raise calves and even baking bread. Other modders are recreating their home town almost exactly one-by-one and therefore build ultra realistic maps for Farming SImulator.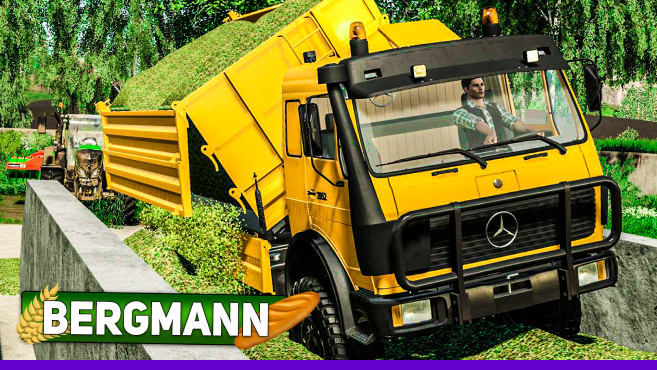 In addition, there are tractor modifications which let the tractor sink into the freshly plought field realistically. Or giving players a tube and hose system for water and manure or placing mud on the map. Then, there are big script collections, new machines and tools and much, much more.
The almost endless possibilities that allow you to play the game how you want to, is so fascinating to me. You can play it realistically or with twelve trailers on your tractor, with Courseplay alone or in the multiplayer... I'm utter thankful to modders investing so much time into scripting and creating all the mods.
How are YouTubers and streamers handling the current COVID-19 situation? How does it effect your content production?
Ansgar: I can only speak for myself and a there are probably YoutTubers and streamers handling it different than me, but I try to abide by the rules, avoid direct contact and hope, that it's over soon, so we can get back to normal life. I wouldn't say the situation affects me particularly positive or negative.
You can see by the comments, clikcs and mails or messages that many people are at home right now - especially where schools are closed. I'm happy that my videos deliver enjoyment for some people.
Of course they do. But did something change in the way you're producing now?
Ansgar: In terms of content creation there are big consequences, yes. Let's Plays get produced as usual, of course. But every video where I want to try or do something in reality are of course cancelled. And the streams for the Farming Simulator League are a little bit less fun because of the situation. By abiding the rules to avoid contact, you have to be careful when visiting the studio. No big travels by train, no hotel or lunch with streaming colleagues you meet once or twice a year. But compared to people making big sacrifices in this crisis, that's of course insignificant. The FSL takes place nevertheless and I'm excited for upcoming tournaments.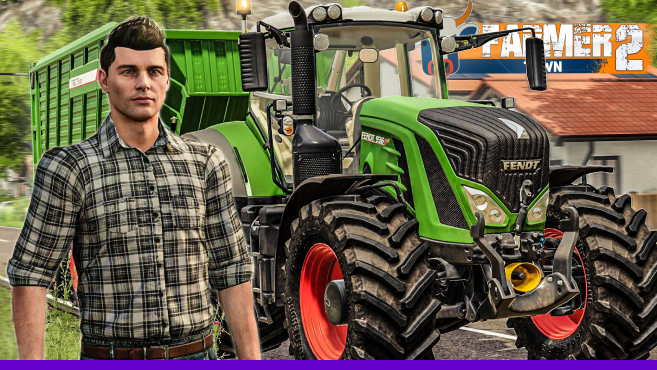 A lot is done virtually now because of that. You have a role-playing format, playing roles on a virtual farm setting. How do people like it?
Ansgar: You can see role-play in my FarmerTown series. For me as a YouTuber it's exciting because of the possibilities. Not only because of the joint decisions what to sow, which fields to use and how the farm should look. But creating interpersonal relationships, too. Adding drama and joy to Farming Simulator is a nice facet and people seem to love it.
When we talked to DjGoHam, he said that European viewers prefer mostly realistic content and US viewers role-playing content. Do you agree?
Ansgar: Not at all. I'm not that familiar with American YouTubers. I know The Squad for example, but I can say for the European and especially German content creaters: They love realism, yes. But they love role-play, too! My English colleague Daggerwin is doing his survival project for years. As I see it, it's very popular for a good reason. And to be honest, it inspired my to do FarmerTown. The way he's doing role-play is very much different than mine, but it's a viewers favorite for years. And it's similar with mine.
My XXL-Farm or general Farming Simulator gameplay get sometimes more clicks but no format is as heavily discussed as FarmerTown. I love the fact that people are discussing and assuming what's next and get excited for the story. It's possible though that realism is a bit more important here than in the USA. Fascinating, for example, are the videos by Agrarplay, which are heavy on realism. But in the end, I think, role-play is as popular as realism.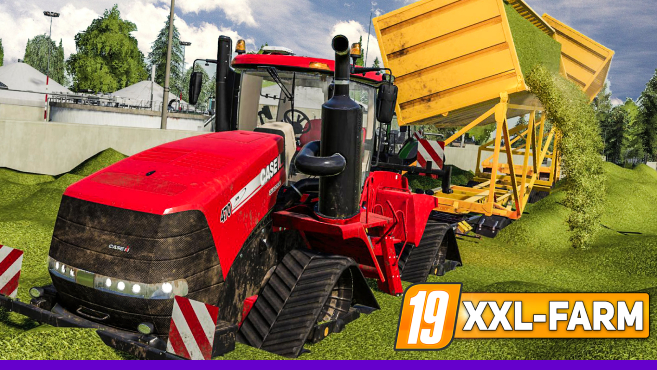 How is it behind the scenes in general? How much work is going into projects like these and all those video productions?
Ansgar: My videos take an immense amount of work nowadays. That's why I get a little bit annoyed by comments like "YouTuber X publishes ten videos a day, why can't you do that?". Over the years, I decided not to mass produce videos. That sounds more disrespectful as I mean it, but instead of "start & stop" recordings I focus on the "special" things. So, I upload not as much. It's possible that I don't upload a video for two days because I'm preparing my projects: I play test, test mods or features to show later, inform myself by asking people with expertise and most of the time, I cut the videos myself.
You have to have a knack for things like that. To get a good result with exciting story, nice music and cool imagery, you need a lot of time, too. If something goes heavily wrong in an episode and it's not entertaining, sometimes it goes right into the trash. Of course, I pressure myself this way but in the end I'm often sitting there, watching the videos and think "Yeah, it's good." Back when I just recorded one video after another, I didn't watch them most of the time, I just uploaded them.
Everyone has to find his own way of doing things. Videos by Randy (Sachsenletsplayer) and Werner (Burning-Gamers.de), which are often start&stop recordings are great and funny, for example. They're charming and interesting. But for me personally, this way of recording didn't make me happy anymore. But both ways to record those videos are legit.
Is there something else you want to tell us? Is there something new on the horizon you maybe want to tease?
Ansgar: Oh year, there's a lot coming up. But it would be boring to spoil the fun now. Later this year some new projects will get started and I'm sure they will entertain and excite a lot of people.
Thank you for the interview. Some words you want to say to the community and your fans?
Ansgar: Thank you very much for watching my videos, for commenting and rating. Thanks to everyone who critizises or makes suggestions for improvement. And thanks to all the partners I got to work with over the years.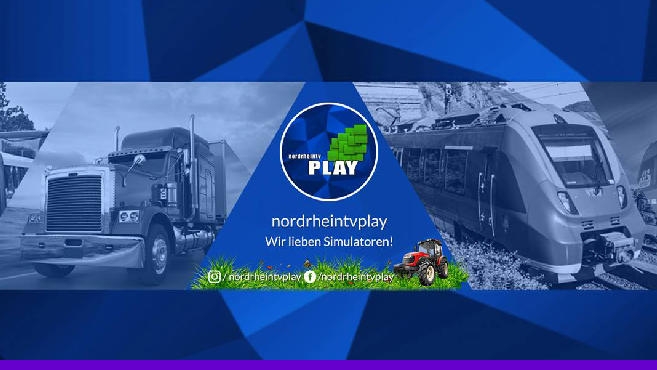 Discover nordrheintvplays channels!
---

You are a community member with a story, too?
---
Then get in touch! Now and then we'll focus on newcomers as well as veterans in the virtual farming community. If you're interested, shoot us an e-mail at community@giants-software.com. Also, feel free to send us feedback on our blog!