We want to get to know our community. And not only the big ones you already know and love, but uprising content creators or even anonymous fans, too. No matter if our community members produce YouTube videos, develop mods or just want to share their personal and unique Farming Simulator story - this is the place to introduce them!

Today we're talking to a member of our English speaking community overseas. DjGoHam is a passionate entertainer in every respect. Not only on his YouTube channel which rose quickly to fame. We talked with him about the American Community of Farming Simulator, where his passion for real-life and virtual farming comes from and take a look at what his editing setup looks like. Among other things, of course.
Who is this DjGoHam?
---
Like his pseudonym already suggests, Michael aka DjGoHam really is a professional DJ naturally performing in front of people. Watch any of his videos and you'll get so see his energizing personality right away. After getting into Farming Simulator and starting a YouTube channel not that long ago, he already gained quite a following. For a good reason. So, let's see what he had to say, shall we?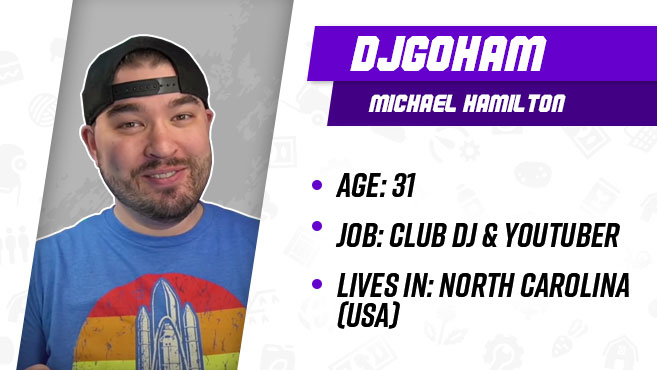 Hi! Please, tell us a little bit about yourself, so we get to know you personally. Who are you and why did you start producing Farming Simulator videos on your YouTube channel?
DjGoHam: What's up! I'm Michael, but everyone calls me DJ! I'm a club DJ in North Carolina in the United States. I have always been an entertainer. From doing Marching Band to performing, I have always been in front of people for the purpose of entertainment. I had watched YouTubers for the other games I was playing before, like GTA and Forza, and naturally I found myself watching people play FS17, like MrSealyp, Daggerwin, and Squad.
I thought to myself "I think I could do that!" and so on March 9, 2018 when GIANTS released the first screenshots of Farming Simulator 19, I made my first video, and it's all history from there. I loved watching Let's Plays, Live Streams, Mod Reviews, and News Videos, so naturally I wanted to make that same type of content. I have done all four since the channel started, and I am absolutely loving it!
What fascinated you about Farming Simulator right away and still does? How did you get introduced to the game?
DjGoHam: I got Farming Simulator 15 free with Xbox Game Pass back in 2017, and a few weeks after that I purchased Farming Simulator 17 with the season pass on my xbox. I could not stop playing. Any time not sleeping or DJing, was spent playing FS17. The thing I love most about Farming Simulator is that your work is never done. Even before this interview, I was on a map after recording a video, and I just kept working and finding more things to do.
I could play it all day, every day, and not get tired of it because of the many different ways to play the game. Tired of your equipment? Sell it all and buy new stuff. Ready for a challenge? Turn the difficulty up and see if you can grow the right crops to keep your finances up. Because it's a simulator, you are free to play however you want, and the only thing that limits you is your imagination!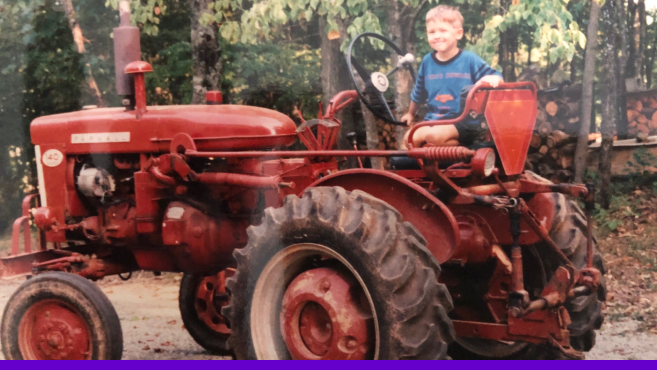 Did you have a personal connection to agriculture before? If not, what could you learn while playing the game?
DjGoHam: I grew up helping my grandparents on their small farm, doing mostly corn and green beans, with other crops as well like tomatoes and potatoes. Farming has always been a big part of who I am, even my first words were "Papaw" and "Tata" - tractor almost (laughing).
I also would mow my yard and my grandparents yard when I was younger, starting at the age of ten. I have always loved mowing grass, and that love has translated over to Farming Simulator. I love doing grass work! At the end of the day, Farming Simulator is a simplified version of what farmers go through every year, but as they say, a farmer's work is never done. In game and in real life, that saying holds true!
Farming Simulator is gaining more and more popularity overseas - do you notice a change in the American gaming community becoming generally more aware of the game?
DjGoHam: Farming Simulator is HUGE! No matter where you are. I have lots of personal friends that play the game, and more than 70% of the current subscribers are from the United States. Farming Simulator is very popular, especially with real farmers.
All the time I see people commenting "Just got done working my fields in real life, time to do the same in Farming Simulator!" I wouldn't say there is a change, but Farming Simulator is becoming one of those games that you just have to have. Even if you don't farm in real-life, Farming Simulator is a game everyone knows about.
Can you spot any distinctions between European and American fans of the game, like different preferences to play the game?
DjGoHam: I've noticed that in general, the European audience, for the most part, really enjoys realistic farming in game. Where the American audience generally prefers a more role-play aspect when playing the game. Obviously this won't be true for everyone, but that seems to be the average. There are some maps that everyone loves, like Greenwich Valley and Lone Oak, but there are other style maps that seem to have a more focused appeal, such as Meadow Grove Farm & Dahl Ranch. The thing I hear the most here in the US, is big machinery and big fields, and I love both!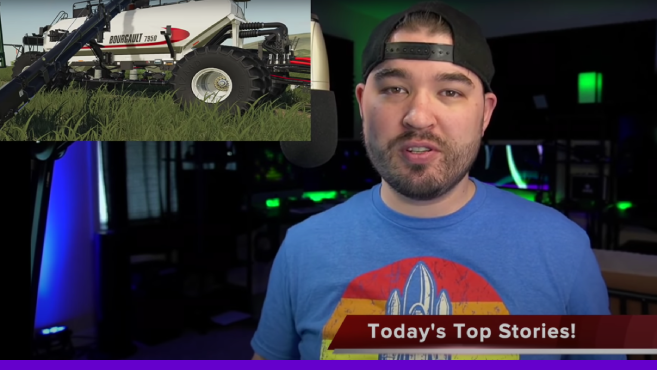 Tell us, what can people expect, checking out your channel for the first time?
DjGoHam: Lots of people come to the channel for the Mod Reviews and News Videos, also known as "Farm Sim News". I always have a daily Let's Play video at the beginning of the day, with multiple live streams throughout the week. My Let's Play videos are not realistic, I try to take a different approach to recording videos like other people, I just play the game. I play it how lots of players out there do, no story line, no narrative, I just play Farming Simulator.
As for my Live Streams, they can get a little out of hand! I use highly modified versions of mods that are already crazy, such as trailers that hold 100 million liters, or combines that harvest at 100kph! I also work with Modders and Map Creators to show off mods early and answer questions that the community may have regarding what will be coming in the future.
The news videos generally release Monday to Friday and I talk about mods that are in testing, and top stories like Farm Con, FSL, or highly anticipated mods to come. My mod review videos showcase all new and updated mods that release on the in-game ModHub. I show how to use new implements, customization of tractors, and go over the change log for updated mods so that if you have a question about a specific feature, the video will answer it.
I have a lot of fun, and do my best to make everyone feel welcome. I also try to be very personable as well, so that people don't just see me as a YouTuber, but as someone they feel like they know!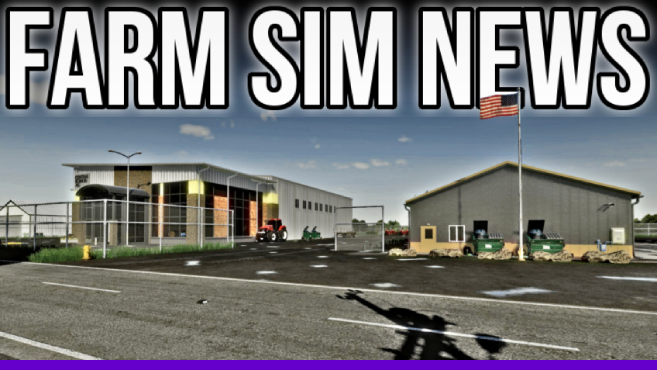 Your channel is still fairly new. You started in 2018 and you have over 65k subscribers already. When did you realize that this is going to get that big of a channel?
DjGoHam: You never really think "This is going to be a big hit" or "People will like this". My motto since the beginning has always been "Make the content that YOU would want to watch!" Because if you don't want to watch it, no one else will either. If there was ever a turning point, I would have to say it was when Lone Oak was released for Farming Simulator 17.
I was still playing on Xbox at the time, and Bullet Bill jumped in my first live stream and commented on how he really liked my First Look & Map Tour video and how it stood out to him. I only had 300 subs at the time, so for the map creator to come into my stream and say those nice things, it was really a moment where I thought things could get big. Never did I think the channel would grow as rapidly as it has over the past two years, and I'm truly thankful for the subscribers for trusting me to bring them Farming Simulator content every day.
What is, in your opinion, the most compelling thing about the whole Farming Simulator community as opposed to other gaming communities? Are there differences?
DjGoHam: The Farming Simulator community seems to be less about competition and more about teamwork and helping each other. Rarely do I see "So-n-so is better" or "you stink", and instead it's about bringing the entire community together for one goal, to have the most fun playing the game we all love.
GIANTS are probably the most transparent game company out there. Daily updates for mods in testing (thank you, Chris!), new mods uploaded almost every weekday, working with content creators to release new information early to players so they can see what is coming to the game, and where the game is going. Such as the announcement that the next Farming Simulator title will not be releasing at the time when previous ones had. GIANTS have so much to do with the success of the game just because of how open they are with the community, and a company that works that hard and shares that much information is bound to have a community that mirrors those goals and kind behavior.
What do you think about the recently release Bourgault DLC that is more compelling for North-American size farming operations?
DjGoHam: The Bougault DLC brought HUGE air drills to the game, as well as machinery that is highly detailed for what it is. Being able to not only run a John Deere 9RX on any platform, but to use it to seed 100' each pass is incredible! I love using the big stuff, even though I'm not currently playing on any large maps. There are lots of players out there, even some people on my mod team that have been using that DLC nonstop since it released!
The thing about Farming Simulator is, the more money you make, the more fields you buy, and the more fields you buy, the larger equipment you have to run to get the job done faster. In turn making you more money down the road. Having the option to run a huge seeder makes it easier to get the fields done faster, allowing you to progress quicker in the game. As a player, I am very appreciative of the Bourgault DLC. Plus, it added a brand that I didn't even know about, and now I follow that brand on Social Media!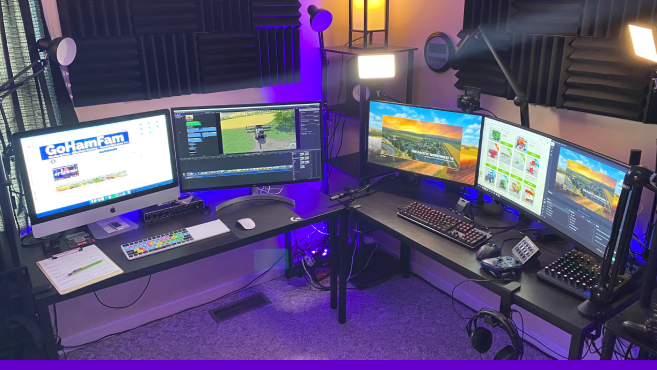 We also started a video contest focusing on Bourgault, maybe inciting more fans to try video editing. Since you're a professional content creator - any recommendations on how to get into editing and maybe even starting an own YouTube or Twitch Stream?
DjGoHam: Professional? Easy there, let's not get ahead of ourselves! (laughing) Video editing can be challenging, but I always say to start easy. Don't do anything big or over the top. Focus on smooth transitions between scenes, make sure there is a good intro and outro that makes it clear what the video is about and who you are, and make sure the audio is leveled.
No matter how good the content is, if the audio stinks, people won't stay to watch it. Get your levels up to around -6 to -10db for general voice, and music should be a little bit louder when you aren't speaking if you have any music added to the video. Everything should flow together nicely. Once you get the basics down, they become natural and you can try other things like playing with the color and sharpness to make your videos a style all your own. Don't be afraid to try something new, but don't be afraid to say "Yeah, that wasn't good!"
I use Final Cut Pro X on an iMac and to a lesser extent Premiere Pro on PC. But there are lots of great free programs on both platforms as well. iMovie is great and is what I started using, and DaVinci Resolve is great on PC. I know quite a few YouTubers that still use the free version of DaVinci. As far as starting a YouTube or Twitch channel, the easiest thing is to jump in head first! You'll learn as you go, and you aren't going to be perfect on day one. That's ok! Just be yourself, be confident, and have fun! And don't forget, make the content that YOU would want to watch!
Standard question: Your favourite mods for Farming Simulator 19?
DjGoHam: I can't live without F11. The Easy Development Controls for PC by GtX is a must have mod for content creators, and anyone on PC that likes to have full control of what is going on in an easy to use layout. My favorite mod for all platforms has to be the Multi Filling Station by Castiga / EDGE Gaming. You can literally fill up anything. ANYTHING! Wheat, sure. TMR, you know it! Water, yup. Even Hay or Straw Pellets when the new Straw Harvest Add-On is enabled on your game save. It's a game changing mod!
Thank you for the interview, Michael! Anything else you want the Farming Simulator Community to know?
DjGoHam: Thank you to the community for the amazing support over the past few years, thank you to GIANTS for the opportunity to be so involved directly as a partner, and thank you to my mod team for being the best in the world! If you aren't on YouTube, Twitch, or any other Social Media, go out and find a content creator that you enjoy and show them as much support as you can. Everything that we do, we do it for you, the community!
Discover DjGoHam's channels!
---

You are a community member with a story, too?
---
Then get in touch! Now and then we'll focus on newcomers as well as veterans in the virtual farming community. If you're interested, shoot us an e-mail at community@giants-software.com. Also, feel free to send us feedback on our blog!