12. August 2020
We want to get to know our community. Not only the content creators you already know and love, but uprising ones or even anonymous fans, too. No matter if our community members produce YouTube videos, develop mods or just want to share their personal and unique Farming Simulator story - this is the place to introduce them!
The women of virtual agriculture may be in the outnumbered at the moment, but there is a rising number of female gamers getting hooked on Farming Simulator. Coffie is one of them. On twitch you can watch her live-stream a pretty relaxed approach of farming, often times together with close friends in her German stream-team. On top of that, you get some unconventional smurf aesthetics - including tractor weights in form of Smurfette. Why not!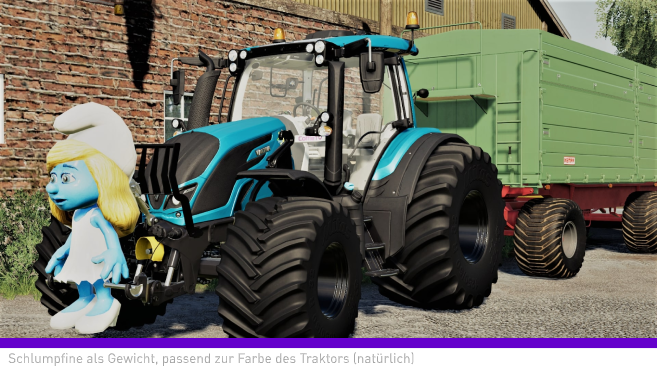 Who is Coffie?
---
Coffie is originally from Berlin. For years, she has been present on Twitch. Maybe you know her from this years FarmCon where she had a message prepared for the community. Our German readers may know her from the stream of her companion Nastus1. The two actually met through Farming Simulator! Within months, Coffie accumulated more than 10.000 Twitch followers. Time to talk to her in person!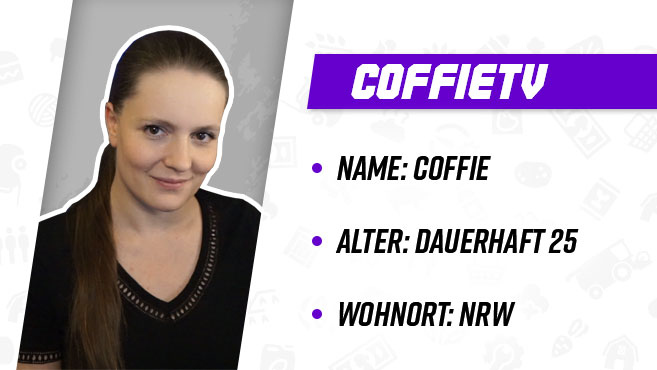 Hi Coffie! Tells us a little bit about yourself!
CoffieTV: Well, I'm 25 years old and a bit crazy. But I'm a positive thinker and always focus on the positive instead of the negative. I'm having fun while streaming and meeting new people. And of course, entertaining the community.
How did you start playing the Farming Simulator, and more importantly, why did you start streaming?
CoffieTV: Ich started playing Farming Simulator because of Nastus1. I saw the game in his stream for the first time. Then he asked me to play the game together. It started with Farming Simulator 15 and from then on, we played together. When the community got to know me from his stream, they quickly started asking when I would stream myself. I started with Farming Simulator 19 early 2020.
What content can people expect on your channel?
CoffieTV: I'm playing Farming Simulator with lots of humour and I'm having much fun. Wide tires, growling engines and, of course, me failing here and there - but not on purpose. I also test a lot of mods.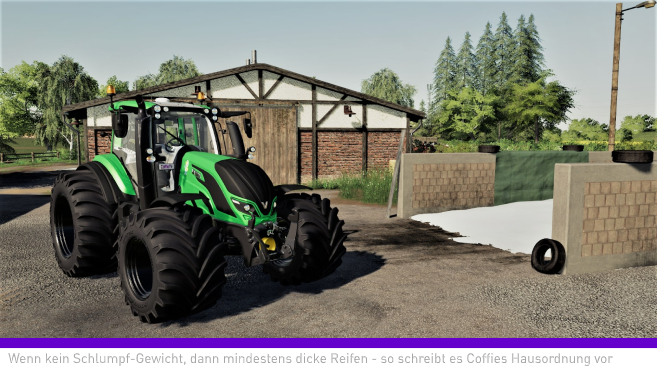 There are more and more female streamers. Less with Farming Simulator, though. What do you think is the reason for that?
CoffieTV: I think, many women still have the image of agriculture being a thing for men in their head. Because of big machines and tools. Maybe some women fear this because the community of Farming Simulator already knows how to do things. Maybe they have to much anxiety about doing something wrong. But they don't have to - the community is very supportive.
Do you have advice for female fans who think about streaming?
CoffieTV: The only thing, I can say to the ladies: just have fun! Show who you are. Show what's going on in the streaming world. Be patient in terms of channel growth and always focus on quality instead of quantity. Nobody likes watching content with bad visuals or sound. Most importantly, stay who you are. Stream for yourself and try to entertain others with what you're doing.
What do you think female gamers and streamers can contribute, or maybe do just differently? What do you think can spark interest for female gamers to play Farming Simulator?
CoffieTV: They add a certain charme. May it be unconventional tractor paint jobs or a farm design with some female touch. I add a lot of details like christmas trees when the time comes, small sandcastles at the river or some cute fountains. I spend a lot of time decorating with mods...
Farming Simulator is also perfect to play with others. We're having super much fun with the multiplayer mode and this can appeal to many people, whether they're male or female, young or old.
What's special about the community in your mind?
CoffieTV: That's easy to answer. The community sticks together and is always there to help, if anyone needs it. I'm very proud to be a part of this community.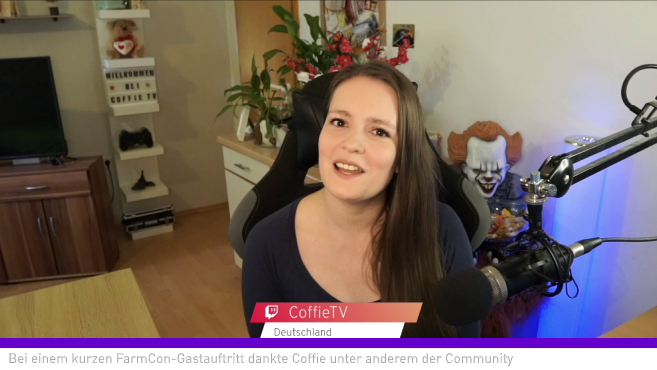 Tell us your most beautiful experience with Farming Simulator!
CoffieTV: The best experience I had was meeting my life-partner Nastus.
You met in the game - tell us more about that...
CoffieTV: It all started with Farming Simulator 15. Nastus played it with much enjoyment. His enthusiasm for tractors and working on the fields fascinated me right away. I had fun watching him and stole his sheep in one of this Twitch games via chat commands. He still fascinates and encourages me to play Farming Simulator with his way of playing it.
One day, he asked me to play Farming Simulator with him. I didn't say no, of course. We had fun playing together again and again. The more we played, the more intimate our conversations go. We knew, we had a deep connection. I decided to go visit him. We met, we saw each other, we hugged each other and with the first meeting we knew, we belong together. From then on, we played Farming Simulator together... the game connects people!
Anything else you want to say to the community and your fans?
CoffieTV: Just THANK YOU! Thanks to all the modders trying to bring even more joy to Farming Simulator. Thanks to everyone sharing our passion and who made the game what it is today. Thanks for having so much fun together. All of you are awesome!
Discover CoffieTVs channels!
---

You are a community member with a story, too?
---
Then get in touch! Now and then we'll focus on newcomers as well as veterans in the virtual farming community. If you're interested, shoot us an e-mail at community@giants-software.com. Also, feel free to send us feedback on our blog!